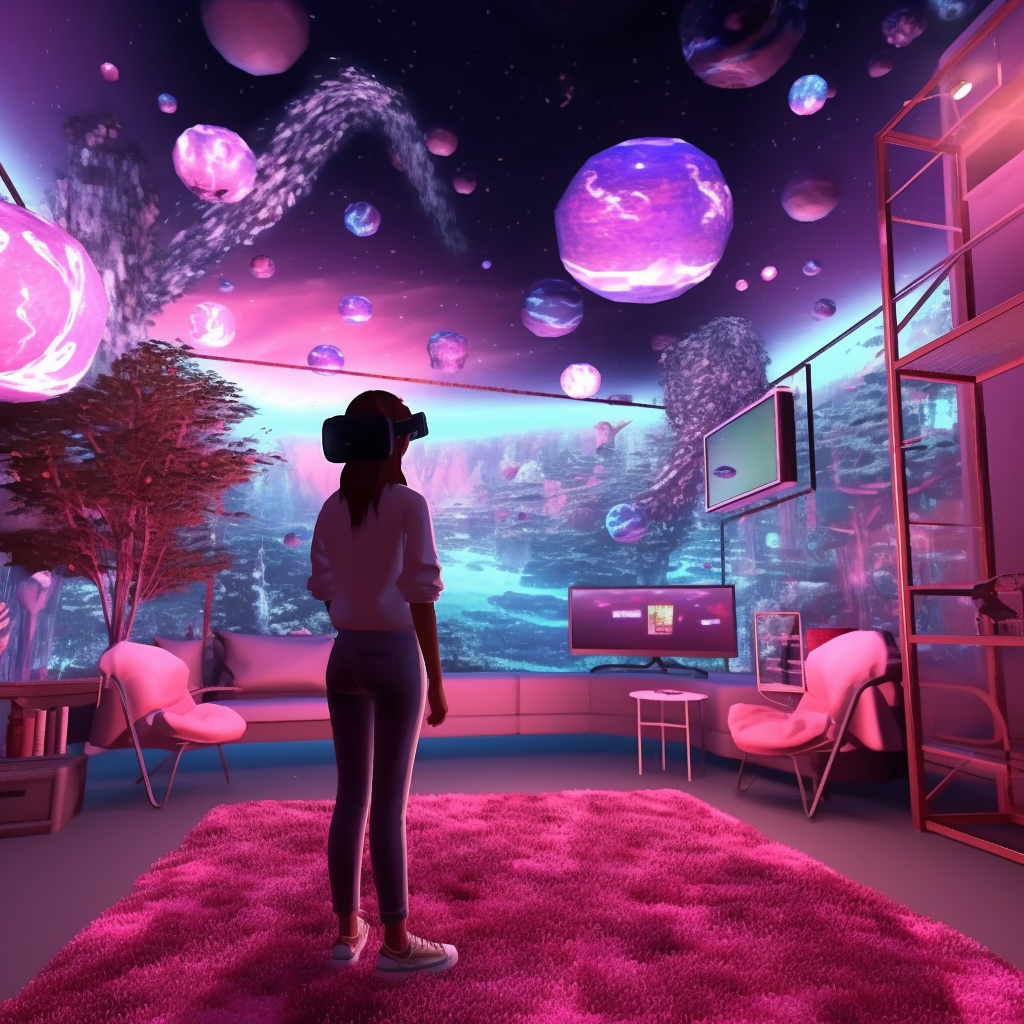 The convergence of gaming and decentralized finance has given rise to an exciting new concept known as GameFi. GameFi combines the immersive world of gaming with the financial opportunities offered by blockchain technology and cryptocurrencies. Within the GameFi ecosystem, one aspect that holds immense potential is the GameFi Metaverse — a virtual universe where players can explore, interact, and participate in dynamic economies. This essay aims to explore the GameFi Metaverse and its implications for the future of virtual economies.
Defining the GameFi Metaverse:
The GameFi Metaverse can be understood as a virtual reality (VR) space where players can engage in various gaming experiences, own virtual assets, and participate in complex economic systems. It is a fully immersive and interconnected world where players have the freedom to explore, create, trade, and earn real value through their virtual endeavors.
Virtual Assets and NFTs:
One of the key aspects of the GameFi Metaverse is the ownership of virtual assets, often represented as non-fungible tokens (NFTs). These NFTs grant players true ownership of unique in-game items, characters, or even virtual real estate. As a result, players can trade, sell, or utilize these assets within the virtual economy, creating new avenues for investment and wealth creation.
Play-to-Earn Opportunities:
The GameFi Metaverse introduces the concept of play-to-earn, where players can generate real-world income by participating in gaming activities. Through the integration of blockchain technology, players can earn in-game currencies, tokens, or other rewards that hold real-world value. This paradigm shift has the potential to revolutionize the gaming industry, transforming players from mere consumers to active participants in the virtual economy.
Dynamic Virtual Economies:
Within the GameFi Metaverse, virtual economies flourish, driven by supply and demand dynamics. Players can engage in various economic activities such as trading virtual assets, providing liquidity, farming yield, or even creating and selling in-game content. These activities enable the emergence of vibrant and self-sustaining economies, where players can amass wealth and drive innovation.
DeFi Integration:
The GameFi Metaverse leverages decentralized finance (DeFi) protocols to enhance the economic infrastructure. Players can participate in yield farming, staking, and lending, utilizing their virtual assets as collateral. This integration allows for the seamless transfer of value between the virtual and real worlds, providing players with a bridge to traditional financial systems.
Collaboration and Socialization:
The GameFi Metaverse goes beyond individual gaming experiences; it fosters collaboration and socialization among players. Players can form alliances, engage in cooperative gameplay, or establish virtual communities centered around common interests. These social interactions further enrich the virtual economy, creating a sense of belonging and shared purpose. QGlobe introduces a new Social Finance app that combines live streaming tournaments with an integrated e-commerce platform, allowing influencers to sell physical and digital items from their in-app merchandise store. The emergence of the GameFi Metaverse represents a significant shift in the gaming industry, offering players new opportunities for engagement and wealth creation.
Challenges and Considerations:
While the GameFi Metaverse holds great promise, it also faces certain challenges. Scalability, interoperability, and security are critical concerns that need to be addressed to ensure a seamless and trustworthy virtual environment. Additionally, regulatory frameworks must adapt to the evolving landscape of virtual economies to safeguard the interests of participants.
The GameFi Metaverse represents an exciting frontier where gaming, virtual assets, and decentralized finance intersect. By enabling players to own, trade, and earn real value within virtual economies, GameFi opens up unprecedented opportunities for wealth creation and meaningful gameplay. The convergence of gaming and finance through the GameFi Metaverse has the potential to reshape the way we perceive and interact with virtual worlds, forging a path towards a more inclusive and immersive future. As this technology continues to evolve, it is crucial for developers, players, and regulators to collaborate in navigating the virtual economies of tomorrow responsibly.